Our Experienced Techs Provide the Coolest AC Repair Service in Town
The team at Auburn Heating, Plumbing & Air Conditioning can perform AC repairs on all major makes and models—so that you and your household can stay comfortable on the hottest days of the year. With us, you get:
Fully-Equipped Service Trucks
Dedicated to Your Satisfaction
Financing Options for Your Budget
We're Here to Keep You Comfortable at Auburn Heating, Plumbing & Air Conditioning
Our experienced pros and fully-equipped trucks are ready to provide you with the best service around—so you can enjoy the comfort and luxury you deserve.
AC Repair FAQs
Find answers to the questions we get most often about AC repair. Need troubleshooting for a specific issue with your cooling system? Contact us for expert advice.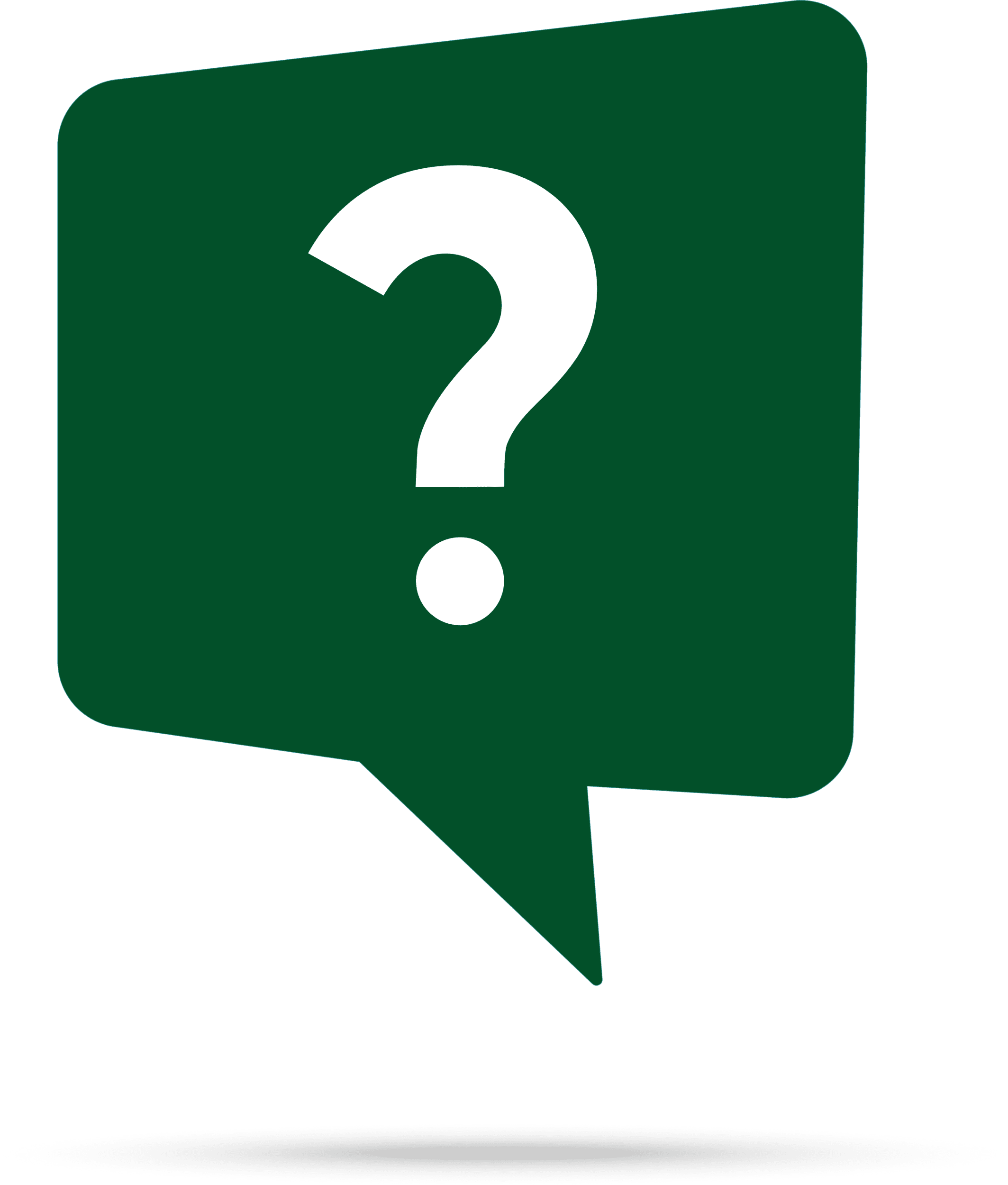 What types of cooling systems do you repair?
Our experienced service technicians can repair any type and brand of air conditioner. If your AC can be fixed, our team can do it!
Do you offer a warranty on your AC repairs?
Yes! We offer a 1 year parts and labor warranty for all repairs, because we believe strongly in the quality of our team and their workmanship.
How long do AC repairs take?
Most AC repairs can be performed in a single day, but some problems may require more time for labor or for specialty parts to be ordered. Contact us to get an estimate for how long your specific repair will take.
How much do common AC repairs cost?
The costs associated with repairing an air conditioner depend on many factors, including the type of parts that are damaged or broken, the extent of the issue, and the availability of replacement parts or required materials. Typically, we recommend budgeting several hundred dollars for most repairs, although big jobs like replacing a compressor can cost over a thousand.
To get an accurate quote for your AC repairs, contact our team. We'll be happy to provide you with an estimate after checking out your system.
How do I know if my AC needs repairs?
You might need AC repairs if:
You experience uneven cooling throughout your home
You aren't getting enough cool air
You hear strange noises or notice strange smells
Your AC short-cycles (turns on and off rapidly)
Your energy bills climb consistently (even with low usage)
Your indoor air quality is declining
You notice leaking refrigerant near your indoor unit.
You'll probably need air conditioner repairs more frequently if your system is over 10 years old. Keep an eye out for these signs on older units and contact us if you notice anything of concern.
Why Choose Auburn Heating, Plumbing & Air Conditioning?
At Auburn Heating, Plumbing & Air Conditioning, your comfort means everything to us. When you choose us for your HVAC or plumbing project, we bring you all kinds of benefits.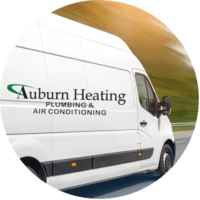 Over 50 Years in the Industry
We've watched the art of comfort evolve over decades. Our team combines current knowledge of HVAC and plumbing technology with the kind of expertise you can only get through raw experience.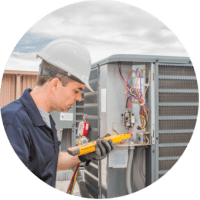 Consistent Quality
We never cut corners, and we hold ourselves to the same high standards on every job. Rest assured that you're always getting our best work.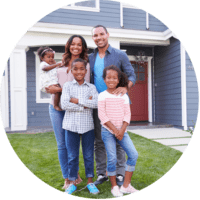 Community Driven
As members of the Chagrin Valley Chamber of Commerce, we're fully committed to improving life for our customers—who are also our friends and neighbors.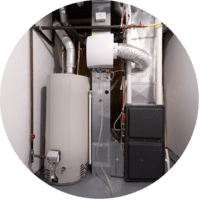 Service for Every Major Brand
No matter what kind of plumbing or HVAC equipment you have, our team can help. Contact us to troubleshoot and recommend solutions.
Our fully-equipped trucks are ready to come to you! Contact us to have your repairs carried out by some of the best technicians in the business.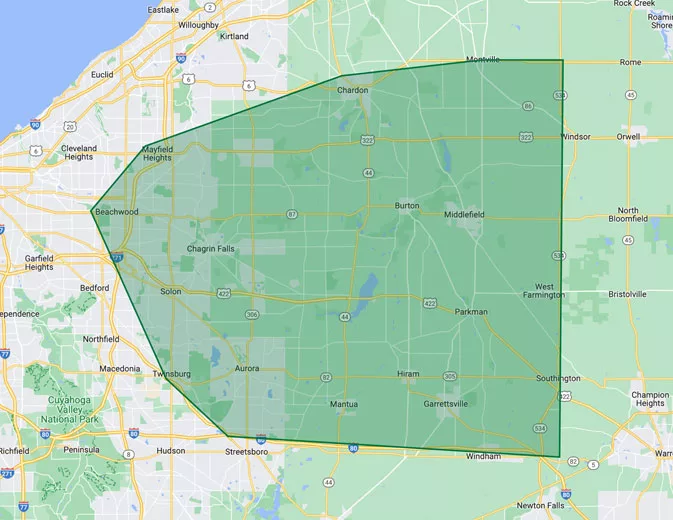 We Can't Wait to Hear From You—Reach Out Today!
The Auburn Heating, Plumbing & Air Conditioning team is always ready to help with your plumbing and HVAC needs. Whether you need new equipment, repairs, a tune-up, or just some honest and trustworthy advice, you can count on us. Fill out the form here and one of our specialists will reach out to help as soon as possible.
Auburn Heating, Plumbing & Air Conditioning
16821 Park Circle Drive
Chagrin Falls, OH 44023
Call any day from 7:00 AM to 7:00 PM or 24/7 for Emergency Service
(440) 543-1777
We provide top-of-the-line HVAC & plumbing services to Chagrin Valley, Chagrin Falls, Solon, Macedonia, Twinsburg, and Mayfield Heights.
When you need professional support for your home comfort needs, Auburn Heating, Plumbing & Air Conditioning is your best bet! Even if we didn't originally install your equipment, our team has what it takes to provide you with expert advice and make cost-effective improvements.
Book Now
Join Our Guardian Plan & Save!
Our Guardian Plan gives you an incredible deal on your HVAC service. Enjoy better, more consistent performance from your heating and cooling equipment by having a dedicated technician assigned to you who can ensure that it functions at its best for years to come.
Guardian Plan Members Get:
15% off all repairs (parts and labor)
5% off new equipment
An assigned service technician
Regular updates and recommendations for your equipment
Priority service—go to the front of the line when you have heating or cooling issues in extreme temperatures!
No overtime rates—enjoy 24-hour emergency service!
Learn More About Our Guardian Plans
Learn More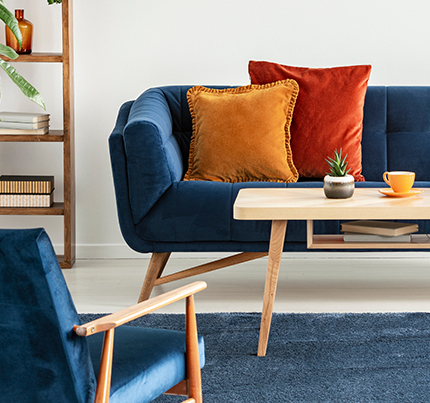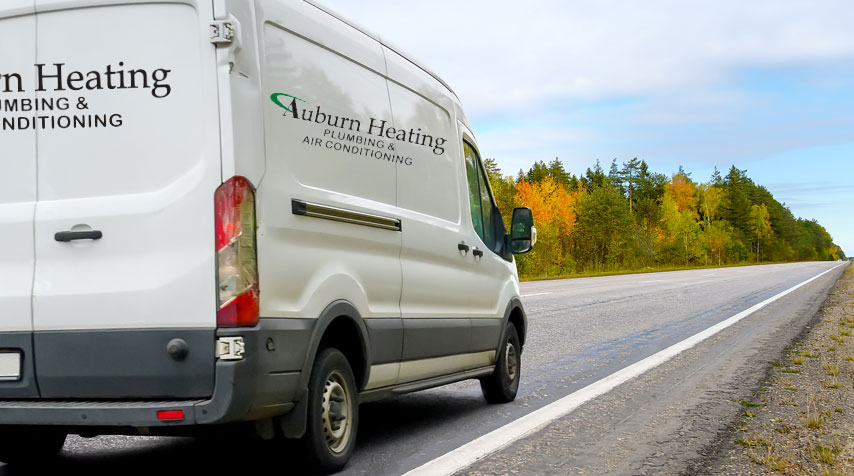 Trust the seasoned professionals at Auburn Heating, Plumbing & Air Conditioning with your next HVAC or plumbing job. We're here to keep you safe, comfortable, & healthy!
Book Now
4.9 Stars From 200+ Reviews
"I would like to thank Jim for being so accommodating on the phone. I was trying to help an elderly friend with her air conditioning and inquired about what materials to use. Without hesitation he said to use rope caulking. Though I was unable to locate this type of caulking (I substituted plumber's caulking), I appreciate the counsel I received on the phone. In this day and age it is certainly refreshing to hear someone on the other end of the phone that is not a recording! Thanks again."