FURNACE REPAIRMEN TO THE RESCUE!
December 12, 2018
3 COMMON PROBLEMS YOUR AC MIGHT HAVE THIS TIME OF YEAR
It's been a scorching summer, and fortunately or unfortunately, it's not over yet. After so many weeks of high temperatures and oppressive humidity, it's only natural that you – and your air conditioner – are starting to feel a bit strained.
Luckily, your friends at Auburn Heating, Plumbing and Air Conditioning are here to help. Not only can our HVAC contractors come to you at the first sign of a problem, but we've also put together this list of common air conditioning problems and what you should do to get them fixed. Check them out below, and if you need help, give us a call today!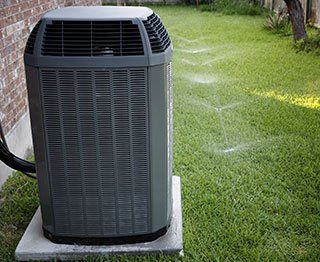 1. The air isn't flowing very well.
The last thing you want is to have your AC on at full blast and to only get a trickle of airflow. To figure out what exactly has gone wrong, compare the airflow from room to room. If airflow is generally weak, then your air conditioner's compressor might be going, meaning it could be time for AC repair. If the airflow is strong in some rooms and weak in others, you may have a problem with your ducts or vents. Try having the duct work cleaned or contact an HVAC contractor to have a full look at the system.
2. You spot a leak around the unit.
A leak from your air conditioning unit is never a good sign. In the best-case scenario, your unit is leaking water. This means that the drain tube is probably blocked or broken. That's a relatively simple replacement, but it should be handled quickly to avoid potential mold growth. However, if you spot a refrigerant leak, that's a more serious issue. Keep people and pets away from the area and call an HVAC contractor for immediate AC repairs.
3. There's no cold air at all.
We know this is the last thing you want to deal with, especially when the weatherperson predicts another day of record-breaking heat! But if the air coming from your air conditioner isn't as cold as it should be, it means your system is on its way out. The compressor might have failed, or the levels of Freon might be too low. You need to call a professional at once to complete AC repairs or to install a new air conditioning unit.
If you notice these or any other problems with your air conditioner, act quickly. Turn to Auburn Heating, Plumbing and Air Conditioning. Proudly serving Solon, OH; Chardon, OH; Chesterland, OH; Chagrin Falls, OH; and Aurora, OH, we offer the AC repairs and replacements you need to stay cool all summer long. Don't let the scorching heat or a faulty air conditioner get you down! Call us for fast repairs and courteous service.